MyInsuranceInfo is a service that verifies your insurance policy with your financial institution so that your collateral is adequately protected. They verify insurance coverage every day for thousands of customers through the simple and secure MyInsuranceInfo portal.

Using MyInsuranceInfo, financial institutions can ensure that all loans are adequately insured. Their system received your information from the financial institution that issued your loan. Your financial institution can use them to track insurance coverage and maintain up-to-date insurance information. The purpose of this article is to explain the MyInsuranceInfo insurance verification process. A simple and secure online process enables you to provide proof of insurance for your loan.
Using the MyInsuranceInfo portal, you can complete the verification process at your convenience. You can submit your insurance information through the MyInsuranceInfo portal even if you have already shared it with someone. This is the most efficient way to connect the dots for everyone.
Official Portal
Or
Get Assistance
What Is The Insurance Verification Process?
Here are the steps you should follow during verification. You must visit the official portal at www.myinsuranceinfo.com and then follow these steps:
Step 1: Gather your documents
You will need the following documents to verify your insurance coverage:
The notice from your financial institution: Upon receipt of this document (whether it was mailed or emailed), you will find your unique reference number. Further, this document specifies the type of collateral (car, house, boat, RV, etc.) that will be required for the loan.
Insurance Policy Documents: Your insurance carrier, the policy number, the effective date, the deductible amount, and the name of the institution holding the lien on the collateral will be needed. All of this information will be included on the declarations page of your policy documents.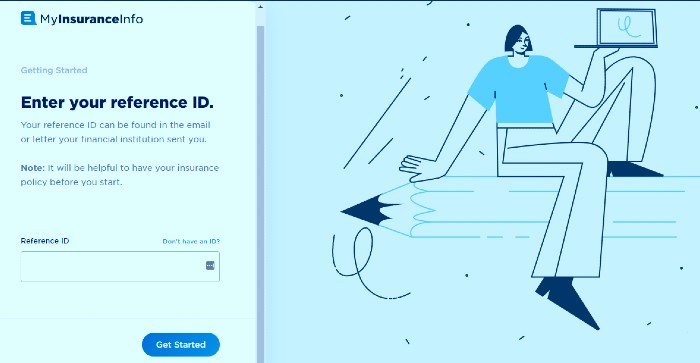 Step 2: Provide Basic Insurance Information
You will need to enter information from those documents into the MyInsuranceInfo portal in a guided process that takes about five minutes. The most current details about your insurance policy are necessary to provide to your lender.
Step 3: Review and Submit
You have completed your task after reviewing and submitting your information. After your information has been correctly submitted, you will receive an email confirmation, and MyInsuranceInfo will begin updating your information on your loan.
You will receive another email within 2-3 business days after submitting your information to let you know if everything went smoothly or if any additional steps are needed.